THE ARCHITECT
Release across the US is coming soon! Please stay tuned.
REVIEWS
"Parker Posey and Eric McCormack
are note-perfect."
KEN EISNER, THE GEORGIA STRAIGHT
VANCOUVER
"There's plenty of laughs…THE ARCHITECT is a fun, light-hearted ride."
CLINTON STARK, STARK INSIDER
SAN JOSE, CA
"Parker Posey is a complete delight as Drew. Meanwhile, Eric McCormack brings a charming fastidiousness and efficiency to Colin that will please more than just fans of 'Will & Grace.'"
SEATTLE INTERNATIONAL
FILM FESTIVAL
When a couple sets out to build their dream house, they enlist the services of an uncompromising modernist architect, who proceeds to build HIS dream house instead of theirs.
STARRING
Parker Posey
James Frain
Eric McCormack
John Carroll Lynch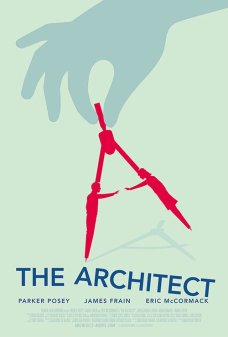 Reviews
"There's plenty of laughs…THE ARCHITECT is a fun, light-hearted ride."

"Parker Posey and Eric McCormack are note-perfect."

"Parker Posey is a complete delight as Drew as she struggles to figure out what exactly she wants in a home, that would distinguish it from being just a house. Meanwhile, Eric McCormack brings a charming fastidiousness and efficiency to Colin that will please more than just fans of "Will & Grace.""

"If you check out this entertaining film, make time for a drink or two afterwards because you will have plenty to discuss."

"There is a magic and a commentary on relationships and how you make marriages work."

"Very very funny!"